---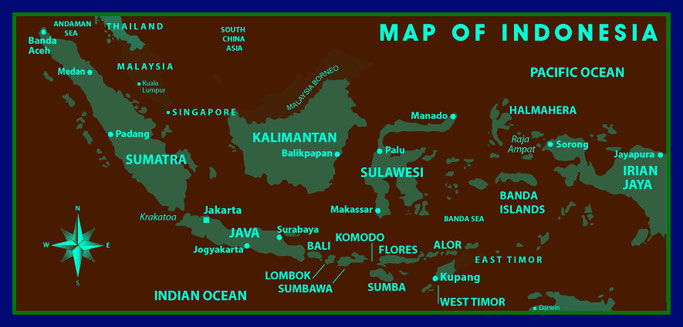 Indonesia has 17.000 islands, more or less as there is no exact data. Indonesia is huge - covered on the European map it stretches from Ireland to Turkey! - from the north west pulau Weh (Sabang) to the south east in Papua (Merauke) the distance is about 5200 kilometers. I can understand that it is difficult to decide where to go. Every island, every corner of the archipel has it's own culture, language, tradition, food and beauty. It is impossible to see them all in one holiday. So you need to come back, again and again...
Flores can be well combined with Sumba, Timor or the islands east of Flores (Solor, Adonara, Lembata, Pantar and Alor). A combination Flores and Sulawesi is also a good idea. And of course for those with a lot of time or for your next trip there are a lot of other choices. I apologize for English readers as some of the websites are in Dutch but I am still working to find helpfull sites in English.
I have traveled most parts of the country. Feel free to contact me for further information. Here below from west to east the major islands with some impressions. Try to find out which one is the most attractive to you.
---
SUMATERA
Sumatera is large and beautiful. Enjoy rainforest, wildlife (yesss, the orang utangs), splendid lakes, Batak and Minangkabau culture or go off the beaten track in Aceh, pulau Weh, Belitung and Nias and try the spicy Padang cuisine.
http://www.gidsinsumatra.nl (Dutch)
Organises travels allover the island of Sumatera fom the north in Aceh to the deep south in Lampung.
https://indonesiereizenopmaat.nl/contact (Dutch)
Private trips on Jawa, Bali and Sumatera
---
---
JAVA, BALI AND LOMBOK
Colonial history, surfing, ricepaddies, numerous volcanos, traintravels an shoppingskills, you name it. Go for the classic Indonesian tour.
https://www.tototravel.com (Dutch)
A non profit agent for trips on Java, Bali and Lombok and populair by Dutch people.
https://indonesiereizenopmaat.nl/contact (Dutch)
Private trips on Jawa, Bali and Sumatera
https://www.visittourlombok.com (English)
Yani, from Lombok is an experienced driver and guide
Tel. +62 82237060508
(WhatsApp)
---
SULAWESI
Sulawesi, or former Celebes, is another beauty of the archipelago. Check out the unique Toraja life, diving near Wakatobi, Lembeh or the Togean Islands or steaming Lore Lindu National Park. In Minahasa glass bottom boats take you to Bunaken or you can eat your heart out at Tomohon market for a piece of snake and if you dare, don't forget RW, the traditional dogmeat dish sold in Manado, Tomohon and Tondano.
Sulawesi is beyond the Wallace line and therefore flora and fauna is different from the western part of Indonesia like Kalimantan and Java.
Sulawesi can be traveled in one holiday and it is easy to spend a month on the island but it is also a smart combination with Java or Bali and of course Flores :-)
http://www.sulawesi-travel.nl/ (Dutch)
Adil Nurimba is an enthousiastic driver and guide on Sulawesi and offers trips all over the island and beyond, like Wakatobi and seldom visited Selayar island.
Good references by Dutch guests.
---
SUMBAWA
The weird shaped island between Lombok and Flores is not populair by tourists and apart from the ones on their rush from Flores all the way to Bali overland there are only a few and if they come most of them visit Hu'u famous for its surfing waves. However there is much more than that on Sumbawa. The island is a mix of green and dry landscapes, deserted white sand beaches, the majestic Tambora volcano, small islands off the coast and a beautiful lake in the west and comparing with west Indonesia, almost empty.

Not so easy to find car drivers, guides or agents on Sumbawa.
You can contact Amir Using +62 8123773507
(WhatsApp) in Bima.
---
SUMBA
Sumba, not to be confused with Sumbawa which lies northwest of the island, belongs to the Lesser Sunda Island (NTT). The island is one of the poorest of Indonesia, very compact. There are two airports with connections to/from Denpasar (Bali) and Kupang (Timor) and therefore not as remote as it seems. Sumba has an unique culture. One of the highlights on Sumba is the Pasola held in February. Sumba has gorgeous beaches and cloth (ikat) is appreciated allover Indonesia.
Check these websites for Sumba:
http://www.sumba-information.com/ (English, Deutsch) which is full of information by a German who lives on the island
http://sumbaadventuretours.com/ (English)
http://www.sumbaspirits.com/ (English)
http://www.tour-sumba.com/ (English)
---
MALUKU & PAPUA
In the most eastern provinces of Indonesia (closer to Australia than capital Jakarta) you will find rainforest, huge mountains (the puncak Jaya, 4884 mtrs), dream islands and the whitest beaches of the country. Highlights of Maluku are Ambon, Seram, Saparua, Ternate, Tidore, Banda en Kei islands while in Papua you should visit the Baliem valley, lake Sentani, Manokwari and the Arfak mountains, and of course Raja Ampat.
Laszlo from Hungary is very experienced in this part of Indonesia.
For Maluku:
http://www.east-indonesia.info/visiting/maluku-travel-information-intro.html (English)
For Papua:
http://www.east-indonesia.info/visiting/papua-travel-information-intro.html (English)
---
Anne Mieke  -AM PHOTONESIA©-