---
TRANSPORT       AIR-ROAD-SEA
---
FLIGHTS

Warning
-routes and prices for flights to/from Flores often change

-also many cancellations, sometimes due to weather, sometimes not clear
-luggage freedom for checked in luggage depends on carrier, between 10 and 20 kgs and sometimes not at all and you need to pay in advance or at the airport.
    
Advise
Do not book domestic flights longer than 6 weeks in advance except for the end of Ramadan/Idul Fitri, high season and the period around Christmas/New Year. Again: timetables often change!

Be careful with prices, check again and again if luggage is included or not.

Flores has 6 airports with flights to Bali, Sumba, Timor and Sulawesi and within Flores itself. Labuan Bajo has the most funky terminal while Larantuka used to have the cutest one, but in the meantime has been replaced by a brand new as well. Unfortunately all terminals in Indonesia seem to be replaced. All airports, except Bajawa are within a few kilometres from the towncentre. Getting transport into town is easy with always cars and ojek at the terminal waiting for passengers, expect to pay between Rp 60.000 and Rp 80.000.
Prices for flights are including airporttax. 


Connections & carriers
Note : routes and schedules change very very often. I try to update frequently, however best is to check the routes via one of the internet providers or directly with the carrier.
All flights below are direct:

Bajawa - Kupang, Timor > City Link, Wings Air
Bajawa - Labuan Bajo > Wings Air, irregular operational

Batik Air including 20 kgs check in luggage
https://www.citilink.co.id/en/
Citilink including 20 kgs check in luggage. 
Lion Air including 20 kgs check in luggage. 
Wings Air check in luggage is additional. A combination of Batik Air or Lion Air with Wings Air usually included luggage for the entire trip.
https://www.sriwijayaair.co.id/application/?action=index
Sriwijaya/Nam Air including 20 kgs check in luggage
As direct bookings with airlines often fail, best choice is to book via one of the local providers. All accepts foreign creditcards.

https://en.tiket.com/
https://www.nusatrip.com/en 


Note that not all of them offer the same flights and prices! So it pays to compare.
All websites above also for hotelbookings. 
---
RAILWAYS
Sorry, no trains on Flores
---
BY ROAD

The Trans Flores Road (made by the Dutch) runs from east to west, from Larantuka to Labuan Bajo and is around 660 kilometers long. In May 2016 for the first time Flores was blessed with the Tour de Flores for which the mainroad was prepared to be in super condition like never before. But, this was in May 2016 :-)  Only one landslide and you will definitely come across some potholes causing delays. Many roads, off the Trans Flores Road are still in bad condition so when travelling more off the beaten track you will find yourself in a real adventure best to handle with a motorcycle or fwd-car.
Check also stories (Hit the road Jack).

More detailed maps:
http://www.florestourism.com/gallery/maps
The Trans Flores Road running from Larantuka to Labuan Bajo was in good condition in May 2016; however in the meantime some parts are affected now and then due to regular landslides and there projects.
Warning:
Travel by road on Flores is slow, the average speed on the main road is around 35 km/hour as the road bends all the way (660 kilometers of asfalt is needed for the actual 375).  I have checked some stretches via Google Maps myself. Some of them are more or less close to reality when everything is ok, but in particular the roads inland or off the Trans Flores can hardly be calculated with Googlemaps.
Some examples: travel times claimed by Google Maps to Denge (for Wae Rebo) or the northern route from Riung to Reo are not realistic. You can easily multiply them due to the condition of these roads.
The good news is that except a few kilometers around the small towns there is hardly any traffic. However, sometimes you have to be patient when a loaded truck crawls up the mountain road and it can take some time before it is safe enough to pass the vehicle.
Distances and travel times (more realistic/non stop=without stop for lunch, taking photo's, let alone visit tourist objects) on the main road between the towns from east to west are approximately:
Larantuka-Maumere 140 km, 3,5 hours


Maumere-Moni, 90 km, 2,5 hours

Moni-Ende, 50 km, 1,5 hours
Maumere-Ende 140 km

(

Moni is about halfway),

4 hours




Moni-Riung, 180 km, 5 hours
Ende-Bajawa 125 km, 3,5 hours

Bajawa-Ruteng 135 km, 4 hours

Ruteng-Labuan Bajo 120 km, 3,5 hours

Other roads (updated May 2023):

Boawae-Mbay is partly potholed but acceptable

Boawae-Soa is a good

(

and beautiful

) 

road


Culu-Sano Nggoang is partly potholed not a good 

idea with a car

Detusoko-Maurole is acceptable

Junction to Todo-Wae Rebo. From the junction on the mainroad to Todo is small but ok, drivingtime 35 minutes. Todo to Dintor is a disaster.

Labuan Bajo-Golomor

i, a brandnew road and good

(

no traffic

)

Labuan Bajo-Rangko, a new and good sealed road north of Labuan Bajo which offers great views

Labuan Bajo-Terang is more or less ok

Labuan Bajo-Warloka. There is a new road to Benteng. Just drive the road which leads to Pede Beach from where the road goes inland then further on south east. There is a bridge under construction

(

April 2020

)

and as soon as this is finished it is quiete easy to drive all the way to Warloka.
Larantuka-Tanjung Bunga, small but reasonable
Lembor-Denge via Nangalili

(

south coast),

acceptable.

Maumbawa-Mataloko is acceptable

Maumere-Magepanda is ok

Maurole-Maumere is ok
Mbay-Riung is acceptable, some parts are bad

Mbay-Maurole is potholed/

partly

dirt road

(

or mud and rivers to cross!

)

Nangahala-Pruda is partly potholed

Nangall

i-Dintor, not in the best condition because of broken bridges
Nggorang-Tobedo and further on to Werang is ok

Nggorang-Warloka village runs via the direct road from Pede beach in Labuan Bajo, however a kilometer beyond Warloka the bridge is in progress

(

expect to finish in the summer of 2020

).

When ready the fishing village of Warloka with Rinca island just in front can be reached within 75 minutes by car or motorbike from Labuan Bajo.


Nobo-Boru, the road around Lewotobi is ok and a nice detour on your way back to Maumere

Pamakoe-Wajo is partly potholed

Reo-Pota is ok today, with an option to travel via the north coast

Reo-Lemarang is ok.... untill the once used to be bridge which has collapsed. Only passable for motorbikes

(

via a rickety bamboo bridge

)
Riung-Bajawa  is very bad and potholed (

almost all drivers go

via Mbay and Boawae which is a better choice

)




Riung-Pota-Reo the road is ok today so you can consider to travel via the north coast, all the way to Reo and on to Ruteng

Ruteng-Denge via Iteng, potholed at some places

Ruteng-Iteng is very bad and potholed
Ruteng-Liang Bua

(

homo florienses

),

45 minutes and mostly ok
Ruteng-Reo is ok

Ruteng-Tangkulese is partly potholed, 1,5 hours

Ruteng-any road west or east of Ruteng are reasonable

Tobedo-Buleng: dirt road

(

or mud after rain

)

Wailolong-Ile Padung is acceptable
Almost every road leading to a waterfall takes a long time as many of them are in the rainforest.
---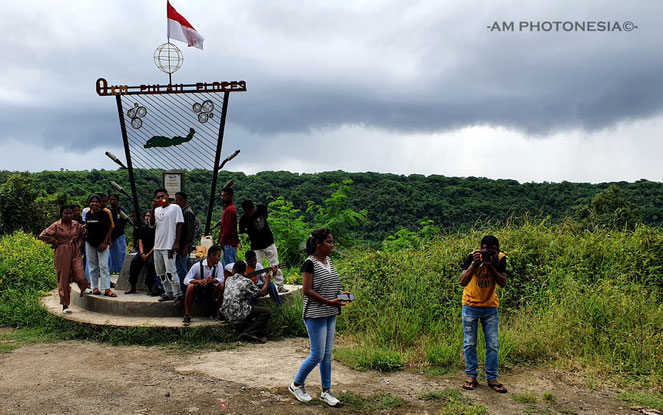 Monument kilometer 0, a few hundred meters west of Danau Asmara, Tanjung Bunga
---
Car with driver
Don't even think about driving yourself in Indonesia!
Although roads are almost empty on Flores, most of them including the Trans Flores Road is full of bends with only few straight stretches. Many western people are not used to drive on the left side and if in case there is an accident you will regret for the rest of your life you ever intended to drive yourself. Hiring a car with driver is about the same price as hiring the same car without one, but overall it isn't even possible. There are no rentals for foreigners.
As a passenger you don' t have to take care of the traffic but only enjoy the beauty of Flores and therefore more relaxed.
Arriving at the airport you can easily get a car with driver. You don't need to look for them, they will find yóu.  Sometimes prices can be steep on airports, specially if you don't have a good plan. Prices of 1,2 million and higher are not uncommon so it depends on business logic, common sense and your nego skills to get a fair price. There is no such thing as a fixed price in Indonesia. However booking in advance is advisable. Your driver will await you at the airport. You don't have to spend precious time to find a driver or bargain plus your driver is prepared for the (long) trip together with you which feels good on both sides. Rates depend on where you want to go to like within town (seldom done by travelers) but cars and drivers are mainly booked for an overland trip. For an overland trip count on an average of Rp 900.000 per day. This price is including car, driver, fuel and costs for the driver during the trip (accomodation/meals).
Drivers have differents systems, some of them count a minimum of 5 days, some ad an empty run (drivers have to go back or the start with an empty run), some charge both.  Prices are sometimes negotiable, in low season more often than in high season. Good luck. If you need help I will be here.
As about 90% of the mails and apps I receive is about finding a car with driver here below an extra chapter.
How to... where can I find... how much...

Please read this if you want to hire a car with driver

Many tourists come from Bali to Flores and will be disappointed by the high(er) prices for hiring a car with driver. So, maybe some explanation is needed.
Many of the cars on Flores are from Bali or Surabaya and Jakarta (Jawa). This means extra costs of transportation, plus costs for converting the license plate or if not, every year a trip to pay for the cartax at the spot (thus Bali or Jawa).  Maintenance and replacing spare parts is more expensive as well as there isn't always a decent stock. On top of that the tourism on Flores is not yet a fulltime business like on Bali for example.  And, at last, the standard of living on Flores (and other islands of NTT) is higher.
For hiring a car with driver (and/or guide) there are many possibilities.
Most people start in Maumere and travel overland to Labuan Bajo or the other way around. Sometimes in 3 days (yes, there are) and sometimes in 2 to 3 weeks and anything in between. Drivers can take you from place to place but sometimes they also can guide you with (sometimes) extra costs. Also drivers have various systems. 
In general with an overland trip with a minimum of 5 days count on a minimum price with an average of Rp 900.000 per day. This price is based on an overland trip and includes car, driver, petrol, costs for driver (place to sleep/meals). It doesn't work to hire a car for 1 or 2 days from A to B and for example again after a few days as this will turn out to become expensive. You will lose a lot of money as an additional charge, a higher day price and/or empty leg will be charged.
You can contact me to find you a reliable, English speaking driver with a fair price. If that case please sent an email to floressurgakita@gmail.com (English, Nederlands, bahasa Indonesia) and let me know your plans and information as much as possible
- date of arrival/start of the trip (when already known)
- how many days (if you already have an idea)
- how many people (adults/children)
- how much luggage weight/volume
- all other relevant information
Again, I am not an agent. Once I have found a driver for you, you receive name and telephonenumber and you can communicate directly with the driver. Further details like payment you need to discuss with the driver yourself.
There is no need to book a driver 6 months or so before, 1 or 2 months in advance is ok except for the months July and August, then best 3 months in advance.


A car rental for one day has to be arranged on the spot. I cannot help you with a one day rental in high season and/or months before, as driver won't accept a booking as there is a good chance they can get an overlandbooking which they cannot accept otherwise. Tourism is not a year round business yet and locals working in the tourism business depend on high season so they have to make as much as possible out of it.
Like said on the first page of this website; there are no profits for me, no fee, no commission. The drivers price is the real price, is your price. No deposit, everything is on a base of a gentlemen's agreement.
---
Bus
Long distance buses run between the towns of Larantuka, Maumere, Ende, Mbay, Riung, Bajawa, Reo, Ruteng and Labuan Bajo, starting early in the morning. No fixed schedules. Buses are small and simple and you will travel together with the locals and everything they carry (including chickens, freezers, huge baskets with eggs… well fill in yourself). If you are (un)lucky (part of the adventure?) a tire has to be changed on route. There are no big airconditioned touringcars on Flores.
Outside the main route you can travel to more (remote) destinations but schedules of bemo/angkot are unreliable while other bad roads only can be handled by public trucks. Both bemo/angkot  and trucks are very few. To reach these areas it is best to hire a fwd or at least a suv with a motorcycle as an alternative.
Examples of busprices:
Labuan Bajo-Bajawa vv Rp 150.000 (count on 10 hours)
Ruteng-Bajawa vv Rp 100.000 (4 to 5 hours)
Bajawa-Riung vv Rp 80.000 (3 to 4 hours)
Bajawa-Moni vv Rp 120.000 (6 hours)
Riung-Ende vv Rp 80.000 (3 to 4 hours). In Ende bus departs from Ndao "terminal" which is along the Trans Flores road just west of town.

---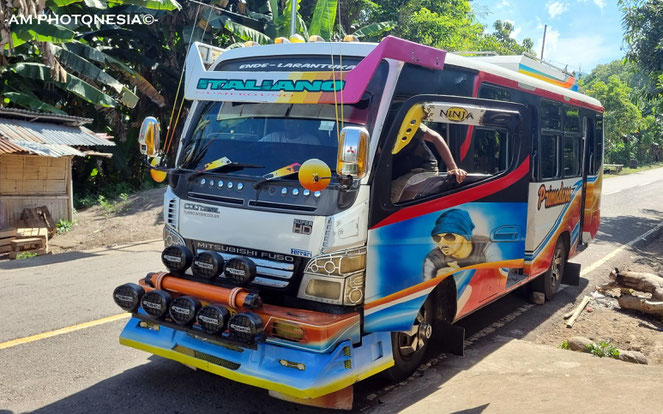 ---
Bemo -Angkot
Within town run minibuses (bemo or angkot) which is always the cheapest way in town. Count on Rp 3000 within town.
---
 Bicycle
Flores is very mountainous and getting around by bicycle can be a physical challenge. However there are still some parts where the area is rather flat like around Ruteng and Bajawa.
Ofcourse you can bring your own bike, but hiring one is a problem.
In Ruteng is an agent who organizes cyclingtours but I am not sure you can hire a bike without a guide.
https://florescyclingtours.com/
In case there is any news about rentals I will update here ofcourse. 
---
Motorbike (ojek)

Sometimes a motorcycle (ojek) is (more) convenient (than a car or angkot). Count on Rp 3000 - Rp 20.000 depending on distance and your negotiationskills. In Labuan Bajo they often try to rip off tourists. 
---
Motorbike selfdrive


You can also rent a motorbike in Moni, Bajawa or Labuan Bajo. In Labuan Bajo you can hire a motorbike from agents for Rp 75.000. In other places Rp 100.000 is the standard, however no real agents but usually just direct from someone who owns one (...). 
Hiring a motorbike for overland Labuan Bajo to Maumere is still not the standard so you have to shop around first. If you do so, be keen on the extra charge for sending the motorbike back to Labuan Bajo. Up to Rp 200.000 is reasonable to my opinion.

As far as I know there is one professional company where you can hire a motorbike one way from Labuan Bajo to Maumere or the other way around.
This is Motor Adventure Bali with offices in Labuan Bajo and Maumere.
https://www.motor-adventure-bali.com/
They offer various kinds of motorbikes for rent including assurance and many additional options. There are also branches on Java, Bali and Lombok. These prices are much higher than the regular ones in Labuan Bajo or in other towns but you will get new motorbike with safe tyres. 

Bear in mind that you formally need an international motor drivers license. "Formally" as I know almost nobody will ask you. Many tourists rent a motorbike just with their copy of their passport or their car driverslicense, or even nothing at all.
Without one your travel- or health insurance won't cover any costs caused by an incident or accident.
However, I do not recommend to go by motorbike overland unless you are very experienced. Labuan Bajo to Maumere is quite a distance, maybe not in kilometers/miles but in time. The Trans Flores road is winding almost all of the time with sometimes steep bends and when it rains it can be rather dangerous to travel by motorbike. One of the tricky problems can be the sudden rainfall when the asphalt becomes slippery and the road is one bend after another. For non experienced travelers It is more wise to do the long hauls by bus, car of travel (shared taxi) and  hire a motorbike for shorter distances around town like in Labuan Bajo, Bajawa and Moni. In Ende, Ruteng and Maumere there is no real touristsmarket for renting motorbikes.
If everything goes smooth, no problem but if you are involved in an accident you will have a big problem no matter it is your fault or not.
But, still one needs an international motor driving license!
For fuel (bensin) stop at one of the Pertamina stations where you can buy Pertalite or Pertamax for Rp 10.000/Rp 14.500 per litre. Sometimes the Pertamina stations are run out of petrol (…) and cars and motorcycles need to queue up (sometimes for hours!) but you always can fill up along the roadside where you can buy the fuel in Coca Cola or Aquabottles... :-)
---
Taxi
There are no metered taxi's on Flores. You can take a car from the airport, ferrylanding or busterminal and sometimes from hotels but rates are much higher than the "real" taxi's you find on Java of Bali for example.
Airport "taxi's" in Bajawa, Ende, Labuan Bajo, Larantuka and Maumere will charge around Rp 70.000 per person.
---
Travel (shared "taxi")

A travel is a shared "taxi" which is usually a big car or a minibus that runs door to door and is a good alternative for a bus. They usually run faster than buses and costs are still low enough. Sometimes they run on schedule and sometimes when (almost) full. Costs depends on distance, between Rp 100.000 and Rp 250.000

Gunung Mas is a well known travelcompany on Flores.

Schedules/prices 2019/2022

Labuan Bajo - Ruteng vv
4 hours
departure every hour starting 07:00 am in the morning until 17:00 in the afternoon
Ticket: Rp 120.000 pp

(

2022

)



Ruteng - Ende
8 hours
departure 07:00 am and 14:00 pm
Ticket: Rp 150.000 pp

 

(

2022

)

             

Ruteng - Maumere
12 hours
departure 07:00 am


Ticket: Rp 250.000 pp

Bajawa - Ende*
4 hours
departure 11:00 am and 18:00 pm

(

note: you have to wait at the junction on the mainroad Aimere to Ende; the bus don't drive into town

)


Ticket: Rp 150.000 pp
* for Moni you can take the travel to Ende and change to a normal bus or the travel to Maumere from the junction near Bajawa. Bajawa to Moni is around 6 hours.
Contact
There is no office in Bajawa or Moni.
Other companies are Puspa Sari and Virgo Travel. There are also other private travels without a name. Usually your hotel or guesthouse can help you to find one. Stretches like:
Maumere-Ende vv
Ende-Moni vv

Ende-Bajawa vv
Bajawa-Ruteng vv
Ruteng-Labuan Bajo vv
costs around Rp 130.000 to Rp 150.000 or Rp 250.000 to Rp 300.00 for a double stretch.

A travel from Riung to Bajawa use to leave at 6 am, costs Rp 80.000 but you cannot count on to catch the afternoon flight to Labuan Bajo or Kupang.
---
BY SEA 
There are boats in shapes and sizes on Flores.
Long distance journeys are from Larantuka, Maumere, Ende, Aimere, Reo and Labuan Bajo. Pelni is the national company with passengersboats connecting harbours of the whole country. Most Pelniships have a 2 or 4 week schedule and are not always on time. Don't plan too tight. Pelni
ASDP are small ferries which connect Flores with Sumbawa, Lembata, Sumba and Timor. Wooden boats sail between Larantuka and Solor, Adonara and Lembata.
Speedboats run between Labuan Bajo and Sape.  
Check the ASDP website for schedules https://www.asdp.id/ 
In Indonesian only. 
Keep in mind that routes and schedules often change and crossing times depend also on weatherconditions. 
You also can rent a boat (speed or perahu motor). When heading for Komodo NP and you want to visit islands as far as Rinca/Padar/Komodo always look for a boat with at least two engines. Also check the boat on safetyfacilities and that you can communicate with your captain (English, if you don't speak Indonesian). Boatrental is  vague on Flores with sometimes "fantasy"prices. Prices have increased the last 5 years, especially in Labuan Bajo. If you are in doubt you also can book on a seat-in tour together with other tourists. A private boat for about 10 passengers depending on distance, destination (the seas between Labuan Bajo and Komodo can be very rough from time to time, see also stories) and extra's (meals, water etc) will start around 3 million Rupiah per day but many of them af far more expensive.
Shop around before you agree and also check the weather forecast for the day of your trip. Therefore it is best to book one day before.
Also check section Renting a boat for Komodo National Park
---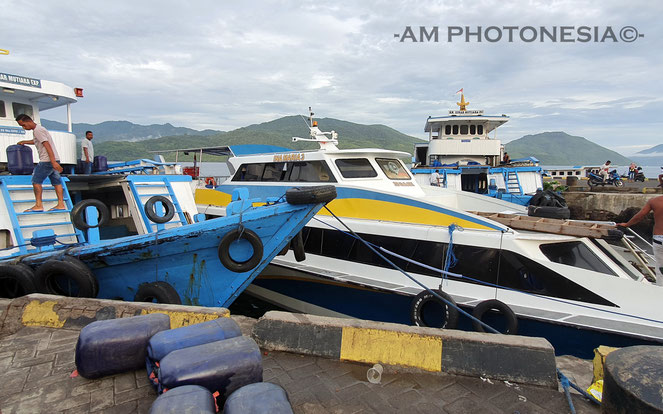 ---
GUIDING
For guests who want to explore Flores with public transport and/or want to go to some particular areas, want to climb a mountain or want a trekking it is wise to hire a guide.
Al local guide can help you to find your way (climbing, trekking, for example climbing volcanos, trekking to remote villages) and/or is able to understand local tradition and can speak the local language. Depending on their skills (climbing, local tradition and language, English) fees for guides range from Rp 100.000 to Rp 550.000.
Note that some drivers also add a fee for guiding but keep in mind that this is not always nescessary depending on the route, where you want to stop, what to see. There is a huge difference in guiding. A guide who take you to the top of the Inerie volcano is not the same as a guide who takes you to Koka Beach for example.
See also "Car with driver" and "How to..." here above.
When you need a guide, also when only 1 or 2 days during your trip I can help you with that as well.
---
Anne Mieke  -AM PHOTONESIA©-